LYNX Technik, provider of modular signal processing interfaces, announces that its greenMachine HDR Evie+ is a 2020 Product Innovation Award Winner. The Product Innovation Awards from TV Technology recognize excellence in manufacturing of products serving the TV/pro video industry. Each year the Product Innovation Award winners are chosen by a panel of working professional engineers and managers in TV, pro video and radio.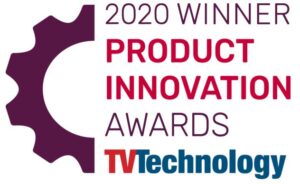 HDR Evie+ earned the Product Innovation Award distinction due to its unique approach to HDR to SDR conversion. HDR Evie+ converts HDR to SDR and retains exceptional detail in darker areas and preserves detail in bright areas that would be burned out by more basic HDR to SDR converters. It makes use of patented dynamic segmented frame-by-frame algorithms that use sectional dynamic tone mapping that allows adjustment of each segment (144 segments/frame) of the 3G or 4K HDR content all in real-time.
The segmented dynamic conversion by greenMachine HDR Evie+ is especially suited to demanding and unpredictable content, with fast moving subjects and high contrast conditions typically found in live sports and news broadcasts.
More Information on HDR Evie + can be found here