GMP DUAL TRANS
Bidirectional Fiber Transport Solution
| | |
| --- | --- |
| Specialty | Analog Audio, De-embedder, Digital Audio, embedder, Fiber, Frame Synchronizer, HDMI, SDI 1.5G, SDI 270MBit, SDI 3Gbit |
Documentation
Product Documentation
Features
Dual channel bidirectional transport solution
2x HD Video (or 1x 3G Video) transport in both directions
SDI and HDMI I/O
4x Audio transport in both directions
2x GPI in both directions
1x 1Gbit Ethernet transport
Frame synchronizer per video channel
Robust "flywheel" frame synchronizer functionality
4 Audio inputs and outputs switchable between analog and digital
HDMI input and output
Included SDI and Ethernet bidirectional SFP modules for full signal transport with two singlemode fiber cables
Timed reference output
Integrated local control panel for configuration and monitoring
Extensive monitoring features such as image previews and audio level meters available on the local control panel and control software
CustomControl Panels
Full SNMP v2 support
Full remote control using greenGUI control software
Optional video and Ethernet CWDM fiber I/O with all 18 wavelengths selectable
Optional redundant power protection
Optional 19" rack frame
Included APPs
| | | |
| --- | --- | --- |
| | | 2 x Bidirectional Transport APP |
| | | 2 x Frame Synchronizer APP |
| | | 2 x Frame Synchronizer APP |
| | | 2 x MiniNova APP |
| | | 2 x Bidirectional SDI SFPs |
| | | 2 x Bidirectional Data SFPs |
Please visit the greenStore for more detailed infomation on APPs
Description
A package is a great way to get started with greenMachine, and we offer several packages in popular configurations to select from.
This package is a complete turnkey multi channel fiber transport sustem with a host of included features which can be used in a wide array of applications. Remember, because greenMachine is 100% APP driven you can change and augment the function of any greenMachine anytime simply by changing the configuration or downloading and installing new APPs from the greenStore. Packages are also priced more attractively than buying the same "Al La Carte" so this is a great way to get started.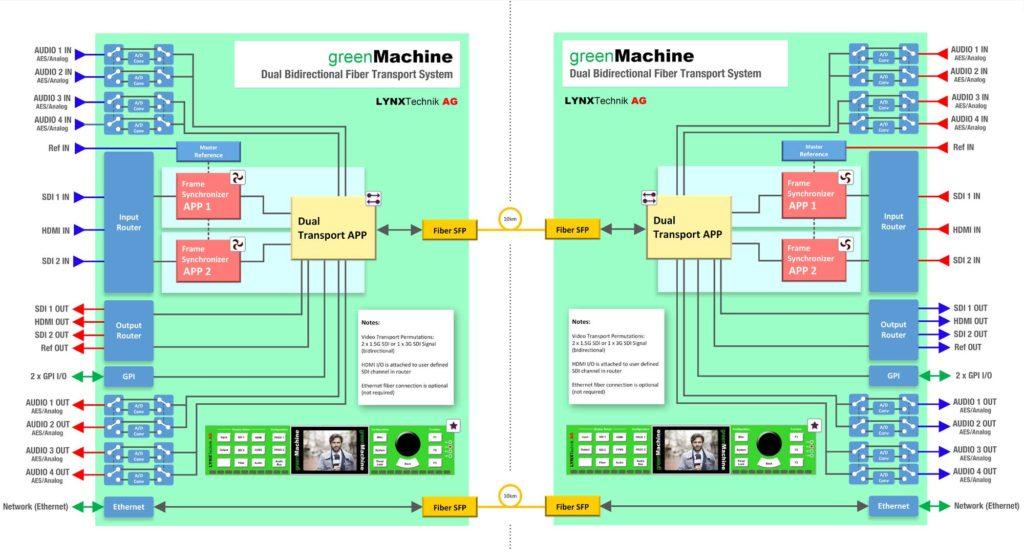 The greenMachine Dual Transport Package includes two greenMachine callisto hardware appliances, two Dual Transport APPs (one per greenMachine), four Frame Synchronizer APPs (one per transported video signal) and two MiniNova APPs. Additionally the package includes a set of bidirectional* video transceiver SFP modules as well as a set of bidirectional* Ethernet transceiver SFP modules.
(*The bidirectional SFP modules have an integrated WDM multiplexing and demultiplexing allowing the bidirectional signals to be transported over one singlemode fiber cable.)
This package is a cost effective bidirectional transport solution for video, audio, Ethernet and GPI. It is a powerful and flexible solution for many Broadcast and ProAV applications that need to exchange multiple signals over only two single fiber links.(If Ethernet is not needed, then only one fiber link can be used)
The greenMachine callisto hardware comes with a fully featured local control interface with an LCD which displays image previews and audio level meters of the processed video paths in addition to the graphical user interface.
The greenMachine Dual Frame Synchronizer Package also includes the MiniNova APP which enables the module to be remotely controlled and monitored via third party master control software.
Note. Some configuration is required. The greenMachine callisto hardware is supplied with a unique redemption code for use online to download the suite of APPs needed from the LYNX GreenStore
Accessories
Ordering Information
| UPC / EAN | Model | Description |
| --- | --- | --- |
| 4250479324879 | GMP-DUALTRANS-US | Callisto Dual Transport Package |
| Options | | |
| 4250479324466 | RFR 6000 | 1RU 19" Chassis for 1 or 2 Green Machines |
| 4250479324367 | RPS 6120 US | Redundant power Supply |

ATTN: State of California Consumers
WARNING: This product can potentially expose you to chemicals which are known to the State of California to cause cancer, birth defects of other reproductive harm. For more information, go to www.P65Warnings.ca.gov