GMP DUAL UPXD
Dual 3G/HD/SD Up/Down/Cross Converter
| | |
| --- | --- |
| Specialty | Analog Audio, Digital Audio, Fiber, HDMI, SDI 1.5G, SDI 270MBit, SDI 3Gbit |
Documentation
Product Documentation
Features
Dual channel broadcast quality up/down/cross converter
Versatile scalers with Region of Interest
Supports video formats up to 3Gbit (auto-detect)
Dual channel frame synchronizer
Bi-Level or tri-level reference input, auto detect, cross lock compatible
Robust "flywheel" frame synchronizer functionality
Up to 30 frames of output delay per video channel
4 Audio inputs and outputs switchable between analog and digital
Up to 1.3s of programmable audio delay per audio pair
HDMI input and output
Test signal generator per video processing channel
Optional video fiber I/O, basic fiber or CWDM with all 18 wavelengths selectable
Optional Ethernet LAN Fiber connection (basic or CWDM)
Integrated local control panel for configuration and monitoring
Extensive monitoring features such as image previews and audio level meters available on the local control panel and control software
CustomControl Panels
Full SNMP v2 support
Full remote control using greenGUI control software
Optional redundant power protection
Optional 19" rack frame
Included APPs
| | | |
| --- | --- | --- |
| | | 2 x Scaler APP |
| | | 2 x De-Interlacer APP |
| | | 2 x Frame Synchronizer APP |
| | | 2 x Level A / Level B Conversion APP |
| | | 2 X MetaData APP |
| | | 2 x Video Adjustments APP |
| | | 2 x Test Generator APP |
| | | 2 x Embed / De-embedder APP |
| | | 1 x Audio Processing APP |
| | | 1 x Timing APP |
| | | 1 x MiniNova APP |
Please visit the greenStore for more detailed infomation on APPs
Description
A package is a great way to get started with greenMachine, and we offer several packages in popular configurations to select from.
This package is a powerful and flexible dual channel 3G up/down/cross converter and frame synchronizer with a host of included features. Remember, because greenMachine is 100% APP driven you can change and augment the function of any greenMachine anytime simply by changing the configuration or downloading and installing new APPs from the greenStore. Packages are also priced more attractively than buying the same "Al La Carte" so this is a great way to get started.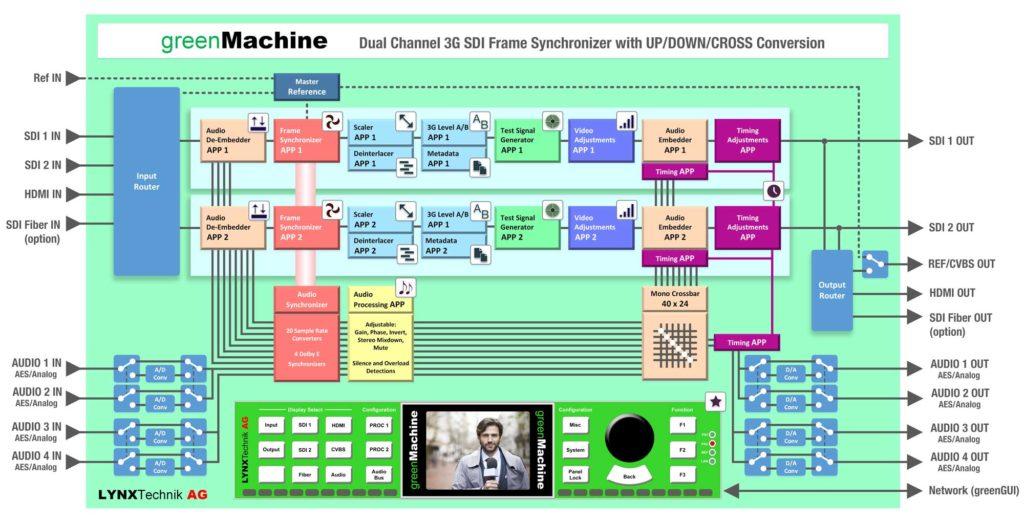 The greenMachine dual up/down/cross converter package includes a greenMachine "callisto" hardware appliance and the necessary APPs to form a fully featured dual channel broadcast quality up/down/cross converter.
This package is designed for applications that require dependable broadcast quality up/down/cross conversion and frame synchronization with full audio processing capability. The converters include powerful scaling capabilities that allow a versatile Region of Interest selection. The included 3G Level A/B APP makes the module compatible with either standard (Level A or Level B) and can convert between the two.
The extensive audio processing capability de-embeds all audio as well as providing support for four external audio inputs or outputs which individually can be configured to be analog or digital interfaces. Multiple internal crossbars allow for extensive audio shuffling. It also provides DolbyE synchronization, full audio processing as well as multiple adjustable user delays.
The greenMachine callisto hardware includes a fully featured local control interface with an integrated LCD screen for image previews and audio level meters of the processed video paths in addition to the graphical user interface.
This greenMachine Dual UPXD Package also includes the MiniNova APP which enables the module to be remotely controlled and monitored via third party master control software.
Note. Some configuration is required. The greenMachine callisto hardware is supplied with a unique redemption code for use online to download the suite of APPs needed from the LYNX GreenStore
Ordering Information
| UPC / EAN | Model | Description |
| --- | --- | --- |
| 4250479324848 | GMP-DUALUPXD-US | Callisto Dual 3G Up/Down/Cross Converer Package |
| Options | | |
| 4250479324466 | RFR 6000 | 1RU 19" Chassis for 1 or 2 Green Machines |
| 4250479324367 | RPS 6120 US | Redundant power Supply |
| SDI Fiber | | |
| 4250479318137 | OH-TR-1 | SDI Transceiver SFP (non CWDM) |
| Ethernet Fiber | | |
| 4250479324190 | OH-TR-51 | Ethernet / Data SFP (non CWDM) |
| SDI WDM Fiber | | |
| 4250479318298 | OH-BD-1-1310 | SDI Bidirectional (WDM) SFP 1310nm |
| 4250479318304 | OH-BD-1-1550 | SDI Bidirectional (WDM) SFP 1550nm |
| Ethernet WDM Fiber | | |
| 4250479323742 | OH-BD-51-1310 | Ethernet Bidirectional (WDM) SFP 1310nm |
| 4250479323759 | OH-BD-51-1550 | Ethernet Bidirectional (WDM) SFP 1550nm |
| CWDM SDI Fiber | | |
| 4250479312906 | OH-TR-4-1290 | SDI Transceiver SFP (CWDM) 1290nm |
| 4250479313101 | OH-TR-4-1310 | SDI Transceiver SFP (CWDM) 1310nm |
| 4250479313309 | OH-TR-4-1330 | SDI Transceiver SFP (CWDM) 1330nm |
| 4250479313507 | OH-TR-4-1350 | SDI Transceiver SFP (CWDM) 1350nm |
| 4250479313705 | OH-TR-4-1370 | SDI Transceiver SFP (CWDM) 1370nm |
| 4250479313903 | OH-TR-4-1390 | SDI Transceiver SFP (CWDM) 1390nm |
| 4250479314108 | OH-TR-4-1410 | SDI Transceiver SFP (CWDM) 1410nm |
| 4250479314306 | OH-TR-4-1430 | SDI Transceiver SFP (CWDM) 1430nm |
| 4250479314504 | OH-TR-4-1450 | SDI Transceiver SFP (CWDM) 1450nm |
| 4250479314702 | OH-TR-4-1470 | SDI Transceiver SFP (CWDM) 1470nm |
| 4250479314900 | OH-TR-4-1490 | SDI Transceiver SFP (CWDM) 1490nm |
| 4250479315105 | OH-TR-4-1510 | SDI Transceiver SFP (CWDM) 1510nm |
| 4250479315303 | OH-TR-4-1530 | SDI Transceiver SFP (CWDM) 1530nm |
| 4250479315501 | OH-TR-4-1550 | SDI Transceiver SFP (CWDM) 1550nm |
| 4250479315709 | OH-TR-4-1570 | SDI Transceiver SFP (CWDM) 1570nm |
| 4250479315907 | OH-TR-4-1590 | SDI Transceiver SFP (CWDM) 1590nm |
| 4250479316102 | OH-TR-4-1610 | SDI Transceiver SFP (CWDM) 11610nm |
| Long Haul CWDM SDI Fiber | | |
| 4250479320864 | OH-TR-8-1450 | SDI Transceiver SFP (CWDM) 1450nm |
| 4250479320871 | OH-TR-8-1470 | SDI Transceiver SFP (CWDM) 1470nm |
| 4250479320888 | OH-TR-8-1490 | SDI Transceiver SFP (CWDM) 1490nm |
| 4250479320895 | OH-TR-8-1510 | SDI Transceiver SFP (CWDM) 1510nm |
| 4250479320901 | OH-TR-8-1530 | SDI Transceiver SFP (CWDM) 1530nm |
| 4250479320918 | OH-TR-8-1550 | SDI Transceiver SFP (CWDM) 1550nm |
| 4250479320925 | OH-TR-8-1570 | SDI Transceiver SFP (CWDM) 1570nm |
| 4250479320932 | OH-TR-8-1590 | SDI Transceiver SFP (CWDM) 1590nm |
| 4250479320949 | OH-TR-8-1610 | SDI Transceiver SFP (CWDM) 1610nm |
| CWDM Data Fiber | | |
| 4250479312753 | OH-TR-54-1270 | Data Transceiver SFP 1270nm (CWDM) |
| 4250479312951 | OH-TR-54-1290 | Data Transceiver SFP 1290nm (CWDM) |
| 4250479313156 | OH-TR-54-1310 | Data Transceiver SFP 1310nm (CWDM) |
| 4250479313354 | OH-TR-54-1330 | Data Transceiver SFP 1330nm (CWDM) |
| 4250479313552 | OH-TR-54-1350 | Data Transceiver SFP 1350nm (CWDM) |
| 4250479313750 | OH-TR-54-1370 | Data Transceiver SFP 1370nm (CWDM) |
| 4250479313958 | OH-TR-54-1390 | Data Transceiver SFP 1390nm (CWDM) |
| 4250479314153 | OH-TR-54-1410 | Data Transceiver SFP 1410nm (CWDM) |
| 4250479314351 | OH-TR-54-1430 | Data Transceiver SFP 1430nm (CWDM) |
| 4250479314559 | OH-TR-54-1450 | Data Transceiver SFP 1450nm (CWDM) |
| 4250479314757 | OH-TR-54-1470 | Data Transceiver SFP 1470nm (CWDM) |
| 4250479314955 | OH-TR-54-1490 | Data Transceiver SFP 1490nm (CWDM) |
| 4250479315150 | OH-TR-54-1510 | Data Transceiver SFP 1510nm (CWDM) |
| 4250479315358 | OH-TR-54-1530 | Data Transceiver SFP 1530nm (CWDM) |
| 4250479315556 | OH-TR-54-1550 | Data Transceiver SFP 1550nm (CWDM) |
| 4250479315754 | OH-TR-54-1570 | Data Transceiver SFP 1570nm (CWDM) |
| 4250479315952 | OH-TR-54-1590 | Data Transceiver SFP 1590nm (CWDM) |
| 4250479316157 | OH-TR-54-1610 | Data Transceiver SFP 1610nm (CWDM) |
| Long Haul CWDM Data Fiber | | |
| 4250479321052 | OH-TR-58-1470 | Data Transceiver SFP 1470nm (CWDM) |
| 4250479321069 | OH-TR-58-1490 | Data Transceiver SFP 1490nm (CWDM) |
| 4250479321076 | OH-TR-58-1510 | Data Transceiver SFP 1510nm (CWDM) |
| 4250479321083 | OH-TR-58-1530 | Data Transceiver SFP 1530nm (CWDM) |
| 4250479321090 | OH-TR-58-1550 | Data Transceiver SFP 1550nm (CWDM) |
| 4250479321106 | OH-TR-58-1570 | Data Transceiver SFP 1570nm (CWDM) |
| 4250479321113 | OH-TR-58-1590 | Data Transceiver SFP 1590nm (CWDM) |
| 4250479321120 | OH-TR-58-1610 | Data Transceiver SFP 1610nm (CWDM) |

ATTN: State of California Consumers
WARNING: This product can potentially expose you to chemicals which are known to the State of California to cause cancer, birth defects of other reproductive harm. For more information, go to www.P65Warnings.ca.gov